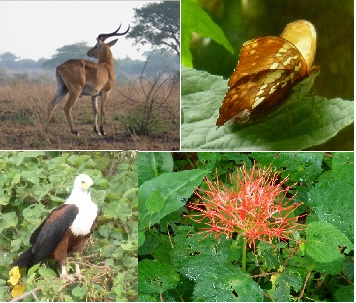 Bicycle tour through Uganda

Uganda as a destination?
Uganda as a destination!
Who is interested in Africa, finds here in a relatively small area (almost) all sceneries of the continent - semiaride savannas, tropical rain forests, highly alpine glacier regions – and hence their fauna and flora, in their biodiversity unique in Africa.

Nowhere in the world, except in Uganda, one finds lions climbing trees. Only here (and in Rwanda) the impressive meeting with the "gentle giants", the last mountain gorillas of our earth, is possible.

During my voluntary activity as an IT advisor in Uganda in spring 2013 I got to know and love this country. I spent my one-week vacation after my application with a NGO which pursues an orphanage, an elementary school and a secondary vocational school - and the whole, like for Uganda not unusual, without electricity. There I also made the acquaintance of the former home child Robert who offers bicycle tours in the surrounding national parks.

Back at home I developed the following ideas:
A fotovoltaik plant has to be installed. For the connection with the digital world it needs laptops and money for Internet service provider. I organise a bicycle tour in western Uganda whose revenue serves for the financing of the ideas.
Meanwhile the ideas for a successful project could be accomplished. In April, 2014 I flew with some discarded, but operational notebooks again to Uganda and supervised the installation of the fotovoltaik plant. Then again in an voluntary application I trained teachers and students during 3 weeks on the computers.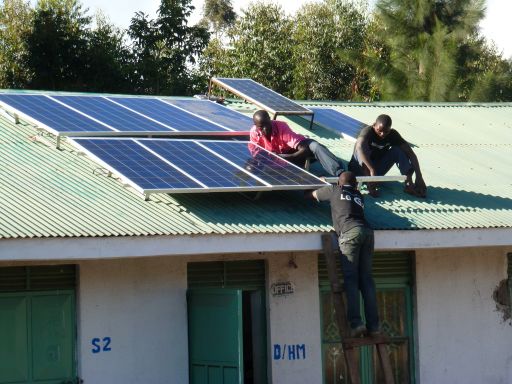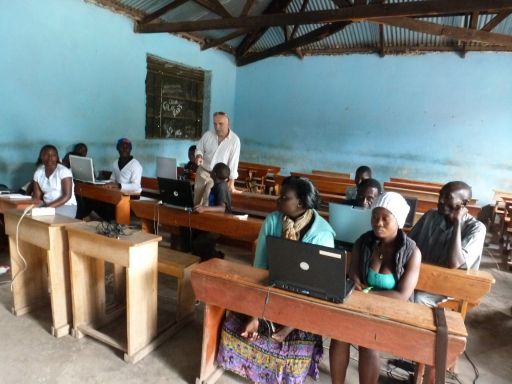 Then the first bicycle to work took place in August 2014 (and two others in February 2015 and July 2018). Here you can find my detailed travel report and here the feedback of participants.
On account of the success more bicycle tours are planned. For luggage transport and flagging  participants and in order not to lead lions into temptation in the national parks, a minibus will accompany the tour. It is planned to visit the Semliki national park, to track chimpanzees in the Kibali national park, to make safari trip in Queen Elizabeth Nationalpark and follow mountain gorillas in the Bwindi Impenetrable national park.

However, also getting to know village life is emphasized and contact with municipal organisations like the Mpora Rural Family (http://ugandahomestay.com/), the starting point of the trip, the KAFRED project (Kibale association for Rural and Environmental Development) in Bigodi (http://www.bigodi-tourism.org/6601.html), the Nyundo Valley of Hill Link project (http://n-vhill.hpage.co.in/welcome_35108897.html) and the Byoona Amagara Island Retreat (http://lakebunyonyi.net) will be made.

The next tours: 20/12/2023 - 10/1/2024 u. 15/7-5/8/2024
Travel price:      2400 €
Achievements:  Lodging, catering, transport and drinking water, all entrance fees,
                      details see registration form
Optionally:        bicycle rent 80€, chimpanzee's trekking 150$, gorilla's trekking 600$,
                      single-room supplement 500€
plus flight approx. 750€ (the earlier booked, the more favourably ;-), with pleasure I help with the reservation)
guidance
Day 1
takeoff in Frankfurt
 
Day 2
arrival in Entebbe, transfer to Kampala, overnight stay in the Namirembe Guest House(http://www.namirembe-guesthouse.com),
journey by minibus to Kichwamba / Fort Portal overnight stay with the Mpora Rural Family
Day 3
bicycle check, bicycle excursion in the surroundings, among other things to the Amabere cave with waterfall and to "Top of the World" with look at several crater lakes and the Rwenzori mountains, overnight stay with the Mpora Rural Family
 
Day 4
by bicycle to the Semliki national park,
overnight stay in the Bumaga camp in Bandas (traditional huts) and cottages
 
Day 5
in the early morning wandering through the nature reserve to the hot springs and view platforms for bird's observation,
return journey by minibus to Fort Portal, after the lunch bicycle tour to the Crater Valley Kibale Resort and overnight stay (http://www.traveluganda.co.ug/cvk)
Day 6
bicycle tour to the Kibale national park,
overnight stay in the Chimp's nest (http://chimpsnest.com)
 
Day 7
in the early morning chimpanzee's trekking in the park,
at noon visit of the KAFRED project (Kibale association for Rural and Environmental Development) in Bigodi (http://www.bigodi-tourism.org/6601.html)
Day 8
nature walk through the Bigodi wetlands,
journey by minibus and bike to Kasese,. overnight stay in the White House
 

Day 9

cycling to and through Queen Elizabeth Nationalpark,
boat trip on the Kazinga channel with animal observations on the banks
Day 10
early in the morning safari trip
 
Day 11
journey to Ishasha (overnight place is not certain yet)
 
Day 12
safari trip to the tree climbing lions (without bikes ;-)) - incredibly in Africa
 
Day 13
bicycle tour to Butogota, overnight stay at the Nyundo Valley of Hill Link project (http://n-vhill.hpage.co.in/welcome_35108897.html)
 
Day 14
visit of the facilities of the project, overnight stay at the same place
 
Day 15
journey to Buhoma, the gate to Bwindi Impenetrable Forest national park, overnight stay in Buhoma Community Rest Camp, visit of a village of the Batwa (Pygmy),
 
Day 16
gorilla trekking through the Bwindi Impenetrable Forest national park
Day 17
journey with the bus (for hard-boiled partially by bicycle) to the lake Bunyonyi, the only bilharzia free lake in Uganda
Day 18
rest, swimming, walks
 
Day 19
rest, swimming, walks
 
Day 20
return journey by the mini bus to Entebbe, overnight stay in the African Roots Guesthouse
 
Day 21
day at your disposition, perhaps visit of the botanical garden in Entebbe,
transfer to the airport
Day 22
return flight to Germany
 
The net revenues are again for the benefit of social projects in Uganda. Curious prospective customers can contact me by mail to This email address is being protected from spambots. You need JavaScript enabled to view it.. Moreover, donations of used notebooks, digital cameras, mobile phones, baby clothes and child clothes are highly appreciated.

With pleasure I am also willing to present my bicycle tour and projects against allowance of the travel expenses to interested organisations and associations.